---
About me
---
My name is Petros Markou -I'm on the right of the photo- and I'm 19 years old. I was born in the 4th June of 1998. I'm from Greece and I live in Thessaloniki, which is Greece's second largest city, with over 1 million people. I'm a student in the School of Good Arts and I'll go to France in the year 1999 -in the city of Saint-Entienne- to continue there my studies. I'm a computer addict and that machine takes much of my time. I don't play computer games now, because I got tired of them -to be honest, I don't have time for them-. I use the computer for my art work for the University. And of course for the Simba's Pride page.
Expect from the computer I'm interested in basketball, football, reading literature and of course drawing at any way.
Now in the summer I had time to get a little "un rusted" from the much sitting. I swam in the wonderful sea of Greece. Without the swimming in the sea I would have been totally one with the computer monitor. It's good for your health to get away of something you like for a while, so that you can relax.
Here's a photo of me (on the right) and my brother Pantelis. The photo was taken in 1994 in Hungary. Don't worry. I haven't changed a lot. We're holding a young boa constrictor. That photo is real!
And here's me again with my lions. I have not tamed them yet. YOU CAN NOT TAME A WILD ANIMAL!
See how the cub looks at me? I don't know how I'm alive yet!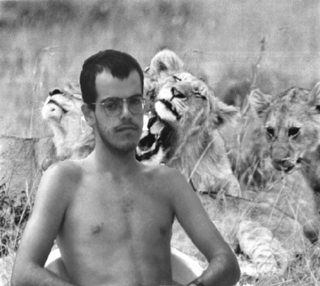 ---
When I first saw the movie "The Lion King" in the cinema, it was an unforgettable experience. That movie was ahead of all the animation movies I saw in terms of animation quality. I saw the movie in cinema only one time. But when I bought the video tape I saw it a couple of times because it was a masterpiece.
---
When I heard through the Internet that there would come the sequel "Simba's Pride" and saw the previews, I was filled with enthusiasm. I'm sure that the sequel will have the best quality for a home video animation movie. But quality isn't everything. I really liked the two cubs Kovu -especially him- and Kiara. I have a female cat in my house. She doesn't have a name. I call her simply "cat". She has made totally twelve kittens which made me understand better the behavior of the felines. The felines are incredible animals.
---
I hope that the sequel will satisfy "The Lion King" fans -and not only- all around the world. Disney holds an ace in her pocket. The video release will have many sells.